"We will destroy an idea of ??what should be the mobile device", - said the company tayvankaya ASUS Computer. We have learned that it had in mind and would like us to offer presented by companies. This is a hybrid smart phone and tablet-called PadFone.

Without waiting for the start of the international exhibition Computex 2011, ASUS has a press conference in Taipei presented a number of new devices, including smartfonoplanshet PadFone.

In web-quality photos are available PadFone, they appeared a week ago. In the photo, we see that the device also performs and functions of the docking station. At the rear of the case is PadFone compartment, which houses the smartphone.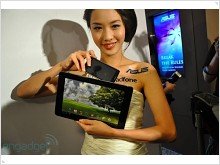 It is known that the smartphone is equipped with a 4.3 inch screen, a display plate is 10.1 ". More detailed characteristics of the device will be known after its presentation at Computex 2011.
Source: ®