RIM BlackBerry Torch 9800 - the first smartphone from the manufacturer, which combines its compact design and touchscreen keypad. The unit has just been officially launched, but already enjoys great interest among the population. This is not surprising, since the BlackBerry Torch has a stylish and modern design, powerful technical features, as well as a decent price. Review of RIM BlackBerry Torch 9800 compiled specifically for you - do not leave you indifferent to this unit.
Design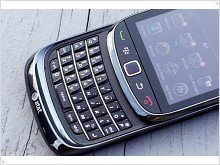 BlackBerry Torch RIM opens new horizons. This is their first slider, and thinks he does not like something unique, on the contrary - as the start of a whole new series. RIM and AT & T began developing devaysa year and a half ago, and one of the goals in creating the smartphone was designed not only combines the best in the world of touchscreen, full keyboard and track-pad, but a familiar and intuitive to former and current users of BlackBerry. And, as we think, the RIM is for the most part succeeded.
Form Torch somewhat reminiscent BlackBerry Storm and slightly - BlackBerry Bold. We would not be called a sophisticated smartphone, but for the corporate world, where the BlackBerry continues to dominate, its design is suitable for one hundred percent. In the closed position Torch dimensions are 11.2 cm in height, 6.1 cm wide, 1.5 cm thick phone weighs 162 grams.Smartphone bulky, but thanks to the soft textured coating on the back of your hand sits. Plus, a smartphone rather thin and small, to make it easy to carry in a trouser pocket.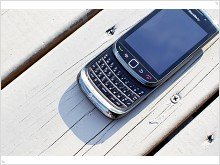 Torch is a front 3.2-inch (480 × 360, 188 pixels per inch) VGA-capacitive touchscreen. In general, the display is clear and bright enough for reading text and viewing Web pages, pictures and video. However, in comparison with many modern smartphones such as HTC Droid Incredible and Samsung Captivate, a screen Torch noticeably loses resolution.
It is worth noting that the technology SurePress, used in the model BlackBerry Storm, in the Torch is not involved, so you do not need to "click through" to the screen to confirm the touch. It was pretty funny when we first took the Torch in hand, instinctively trying to put pressure on the screen as you did on the Storm. From this habit, we had to get rid of.
Most of the responsiveness of a touchscreen is good. Applications run immediately after clicking on the icons, but the scrolling, as well as the pinch-to-zoom, realized much worse than other systems. The display is equipped with a proximity sensor, so that you can not be afraid of accidentally clicking on the screen during a call. Plus, built-in accelerometer to quickly cope with the change of orientation of the screen, while we rotated the smartphone.
Torch supports both types of orientation virtual keyboard that will have a place to write quick messages. However, if you are busy with something three-dimensional, it's time to open the phone and use the full QWERTY-keyboard.
Slider mechanism works smoothly enough, the screen is securely held in its place. In the open position weight on the smartphone is distributed fairly well, so that outweigh the discomfort of the top phone when printing you will not experience. Keyboard with Torch'a, incidentally, the thinnest of all products BlackBerry, to see the light. Therefore, the thrill of keyboard buttons are not as good as the Bold, but with the keys and their size is still in order. Also, we pleased the big gap between the upper row keys and the bottom of the screen, preventing mistakes fingers on the keyboard. In general, the Torch is convenient to print, although people with larger fingers may need time to adjust to the keys. In any case, the keyboard at the Torch certainly "more spacious" than the Palm Pre Plus, and use it for a set of electronic texts is very convenient.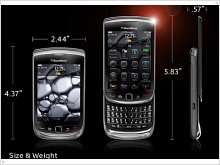 Under the display you can find the usual functionality of the BlackBerry: the standard navigation buttons - Talk and press End, the menu button BlackBerry, optical trackpad below the display and button lock and mute the top devices. As with other products from BlackBerry, clamping menu keys will switch tasks to easily switch to the recently involved the application.
On the right side of the smartphone settled 3.5-millimeter headphone jack, volume control and adjustable (by default activates the camera) key. On the left is port USB, camera with flash huddle at the back, well, and microSD card slot found a place for the battery compartment.
AT & T completes Torch AC-adapter (charging), USB-cable, microSD card 4 gigabytes, wired headset, a cloth to wipe and guidance for use. For information about other gadgets to the BlackBerry Welcome to our forum.
Interface and software
RIM BlackBerry Torch - the first model are running BlackBerry OS 6. As with the redesign phone, RIM wanted to present the audience something fresh and at the same time familiar. Last here enough, but even more innovation, so this is not just adding new features and a capital processing platform.
Immediately striking new kind of the main screen. Above is the Quick Access Toolbar, where you can see the date, time, signal strength and battery charge, and where you can manage wireless connections. Below is the notification bar, which includes click access to the profile and search for a smartphone. This panel will be displayed warning of new messages, missed calls, the next meeting and so on. Clicking on the toolbar will open the system tray, where you can gather more detailed information and move to the desired program.
Mostly, though, you will interact with the bottom of the screen where the new navigation menu.Touchscreen is here in good stead, allowing the scroll menu on the left to right and vice versa for access to programs and content smartphone, distributed in five categories: "All", "Favorite", "Media", "Downloads" and "Frequently Used". In addition to scrolling, you can click on the icon for the desired category to see all the contents of the section.
The names of the categories, in principle, speak for themselves, but we would like to clarify that "Beloved" can be not only the program. You can also add there contacts or web sites, having a personal address book or on the website by clicking the menu button and then clicking "add to the main screen" and "mark as favorite" (which by default should not be). At the same time, to mark favorite applications, you just hold down the program icon and select "mark as favorite" in the context menu.
In general, the system simplified the process of access and control program, which made devays convenient. From the contextual menu, improvement of the browser and multimedia (details below) RIM this time managed to unlock the potential of touchscreen, unlike the seemingly crude model Storm.
But despite all of the above, one of our favorite innovations in BlackBerry OS 6 - this is such a simple thing as a universal search. RIM did a good job over the "universality": Now searching scans virtually all the contents of your phone, including contacts, messages, calendar, music and pictures. Plus, you can expand your search through Google, YouTube, BlackBerry App World and third-party programs, so that the search is all good. Rarely using universal search Torch we were unable to find desired.
Functional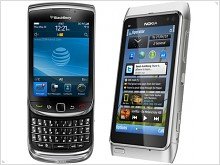 RIM BlackBerry Torch 9800 supports 4 standard GSM - 3G, Bluetooth 2.1, Wi-Fi, and GPS.Among other functions appear speakerphone, voice dialing, smart dialing, conference calling, speed dial, video, and voice mail and send text and multimedia messages. Text and multimedia messages are now combined into one group and can be displayed in a separate chat for every contact, streaming address or group chat. You can also get in touch with your friends via BlackBerry Messenger, as well as through standard internet messaging services such as Windows Live, Yahoo, Google Talk, or AIM - all of them are pre-loaded into the phone.
And of course, what a BlackBerry without email? Torch can be synchronized with your company provided by the BlackBerry Enterprise Server (BES) with support for Microsoft Exchange, IBM Lotus Domino or Novell GroupWise, to deliver corporate email in real time. Recently, RIM has also released Enterprise Server Express, a free but limited functionality version of BES, allowing individuals and small firms synchronize their Exchange Calendar, contacts and tasks, as well as access to repositories of data a corporate network.
With BlackBerry Internet Service you can also get access to 10 business or personal email accounts via POP3 or IMAP4. Boxes can be kept as separate and combine into one. To sync your email accounts using a special program, usually enough to enter into it its username and password. Accounts Gmail and Yahoo we have been able to sync without interruptions, but in the case of two-way sync Gmail and BIS, we are faced with problems. Though RIM has already made available this feature this summer, on our devayse it does not work. For example, reading a letter from Gmail or removing it on the PC had no effect in the Torch. So we constantly had to tinker with inboksom on the smartphone, which are quite annoying.
These days, just e-mail is no longer enough: people want to have access to their accounts in social networks, and BlackBerry Torch ready to respond to these requests. The smartphone not only comes preloaded with clients to Facebook, MySpace and Twitter, but a new application Social Feeds, aggregating into a single stream of updates from all sites and programs for instant messaging. You can choose exactly which sites to add to the stream, and adjust to your taste and appearance of the notification program. Plus, the application copes with the function rss-aggregator.
In pre-BlackBerry Torch found a few more games and applications such as DataViz Documents To Go Standard Edition, memoped, Calculator, BrickBreaker, Word Mole and Bejeweled. Also packed inside devaysa services and programs from AT & T, including AT & T Map, AT & T Navigator, AT & T Music, Yellow Pages Mobile and Where.
Additional programs can be downloaded from the new BlackBerry App World 2.0. The range of shops appear on more than 9000 applications - with iTunes and Android Market does not compare, but on the other hand, the store now supports direct payment from the account of mobile phone operator AT & T (the company is a pioneer in this field), as well as service BlackBerry ID, track your races and purchase that, when purchasing a new BlackBerry could be entering BlackBerry ID and password automatically perezakachat all previously purchased software.
RIM promised that most of the existing programs will run on BlackBerry OS 6, but it may happen that not all functions in the program will work equally well. Also do not forget that the program can only save in the main memory (512 MB of flash memory).
Internet surfing and multimedia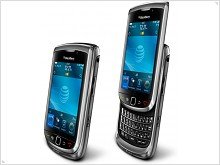 It's no secret that the browser was the Achilles heel of BlackBerry. Surfing with the help of their slow and limited in the functions of the client was so happy yet. It is worth to pay tribute to RIM, recognize this very problem are connected to in August 2009, the company Torch Mobile (BlackBerry Torch gets its name not just) to develop a browser for the platform BlackBerry. And then finally we eat the fruits of those labors.
The browser has become easier to use - front page now is not littered, keep tabs easier. Have been updated with new features such as tabs and quick links exchange. Also the phone supports the pinch-to-zoom and text formatting. If you double-click on the page and thereby increase it, the browser will automatically adjust the text under the screen dimensions. Plus, the browser has learned to better work with HTML and JavaScript, and partially supports the HTML5 and CSS3. Perhaps someone all these technical details
uninteresting, but they are important because they speed up browsing. Unfortunately, the phone does not support Flash, and messages from RIM about the implementation of this function in the future have been reported.
Drawing on his own impressions, we can say that the browser has become much functionality of its previous version. We really liked the tabs, folding open the page and showing thumbnails of all open browser pages, which you can scroll through until you find the right. For the most part the text formatting works like a clock, but when viewing the various graphs and tables are sometimes still have to scroll the page, drawing pages when you zoom in or use of pinch-to-zoom slightly retarding.
We also noticed an increase in speed. However, the BlackBerry browser is still not as fast as other mobile browsers, so that in this direction the company is to grow and grow. Through Wi-Fi connection site Huffington Post fully loaded for 50 seconds at the same time, sites CNN and ESPN loaded in 7 and 6 seconds respectively. For comparison, the browser on Android Nexus One opened the same page 15, 3, and 4 seconds, and the Safari browser on iPhone 3GS - 35, 6 and 5 seconds.
From Internet surfing - to the media. BlackBerry, almost as Android, it is proper for working with multimedia, it is true, the user interface was pretty poor. Torch to pair with BlackBerry OS 6 turned this situation upside down, giving similar to Cover Flow interface for the touchscreen, with which you can organize your music. The video player also added in functionality and now allows you to switch playback modes, beginning with the expansion of video and ending with showing video in full screen.
Torch supports audio formats MP3, AAC, AAC, eAAC, WMA, FLAC, and OGG, and video codecs MPEG4, H.263, H.264, and WMV. To throw the files on your phone as you can just upload them to your device, and synchronizing with BlackBerry Desktop Software 6 your mobile phono-and video with Windows Media Player or iTunes. Plus, your phone has a function of Wi-Fi Music Sync, which among other things allows you to download songs on your smartphone from your home Wi-Fi network. Torch has a 4GB embedded memory card comes with a 4GB microSD. In the expansion slot you can insert cards up to 32GB.
Other entertainment includes a separate player for YouTube, Slacker Radio, MobiTV, and a new application for playing podcasts in the directory QuickPlay.
Camera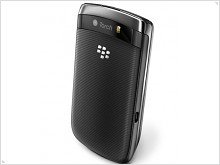 In Torch built pyatimegapikselnaya camera with autofocus, 2X digital zoom and LED-flash. This is the best camera of all, when a ship with BlackBerry. However RIM claims that are not chasing megapixels, but wanted to bring a new level of detail helps to eliminate a good dynamic photo or a good shot in the room. As a result of these aspirations camera equipped feature Face Detection, automatically detects faces in the frame and sets the necessary focus and regulatory exposure, contrast ratio and color, additional shooting modes and a simplified interface.
Performance
When tested in all modes of GSM (850/900/1800/1900) RIM BlackBerry Torch showed their best, and we are generally satisfied with the results. The reception was clean and the noise in the background was minimal. Occasionally sound of his voice distorted, becoming somewhat "robotic" but the conversation does not interfere. Meanwhile, our friends at the other end has reported on good results, not noting any major flaws.
Quality speakerphone definitely could be better. His voice sounded muffled companion, plus some of my friends say they hear an echo. Also, the sound, even when turned all the maximum volume was low, so that in a noisy environment to talk on the phone was very easy. In connection to the smartphone headset Logitech Mobile Traveller Bluetooth headset and the Motorola S9 Bluetooth Active problems were encountered.

If Torch and there is a problem with something, so it is with the overall performance. Staffed by 624MHz Marvell processor smartphone can sometimes retarding. Although virtually all programs are run with very fast switching between them could trigger hang. Several times they were so great that it seemed to us that the system is tightly hung, but eventually the phone back to life.Also manifest "damp" the new operating system, I think everything right for a couple of months.
Talk time battery BlackBerry Torch will last for five and a half hours of 2G and almost six hours of 3G; Standby - 17 days for 2G and 3G to 13 days, respectively. During our test phone was able to hold out for 5 hours of continuous talk time. If you are not too intensive use (sometimes run around the sites, listen to music, watch videos, send e-mail) smartphone survive without charging almost the whole day. Rating SAR by Torch under test at the FCC level of radiation - 0.91 watts per kilogram, and rating Hearing Aid Compatibility - M3/T3.